Smart, Uncompromising, Timely, Effective Insurance Solutions that Make a Difference.
Hurtado & Associates, Inc. is committed to meeting the needs of power distribution, generation, and co-generation companies now and into the future. Our 38 years of industry experience have given us the technical experience to design an insurance product that is comprehensive in coverage and competitively priced. Our dedicated loss control/risk management program and our dedicated claims unit enable Hurtado & Associates, Inc. to provide exceptional service to the power distribution, generation and co-generation industry.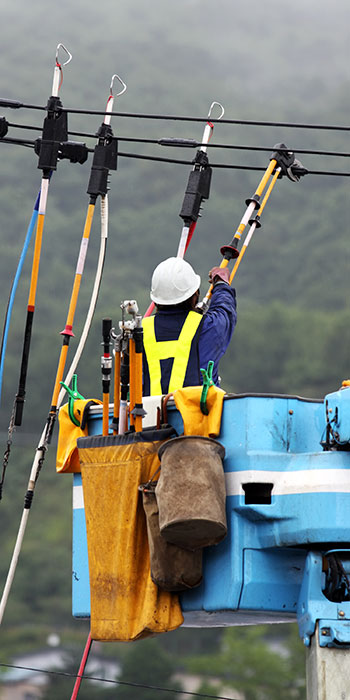 Types of facilities we quote
Rural Electric Cooperatives, Public Utility Districts, Municipalities, Cogeneration and Generation Facilities.
Lines of coverage
• Property
• Boiler & Machinery
• Earthquake & Flood
• General Liability
• Automobile Liability & Physical Damage
• Umbrella
• Pollution
• Directors & Officers to include Kidnap & Ransom
• Cyber
• Crime
• Worker's Compensation
Forms/coverages provided
• Failure to supply when loss results from accident damage
• Fire Suppression
• Earthquake & Flood
• Employees as Named Insureds
• Pesticide or Herbicide
• Rental Reimbursement
• Stated Value Auto Coverage
• Livestock Injury Coverage
What is included with your coverage
• Loss Control
• Dedicated claims
• All TOGA (oil testing) and inspection services for Substation and Transformer Equipment on transformers that are 5,000 KVA and above
What we need from you to obtain a quote
Package. A completed Utility Electric application with completed property and auto schedules, a driver's list, most recent audited financials, and five years loss history. Broker packets are available upon request.
Directors & Officers. Original signed Traveler's D&O application, most recent audited financials, RUS Form 7 (if applicable) bylaws, 5500 Forms (if applicable), List of Directors & Officers, and a copy of employee handbook.